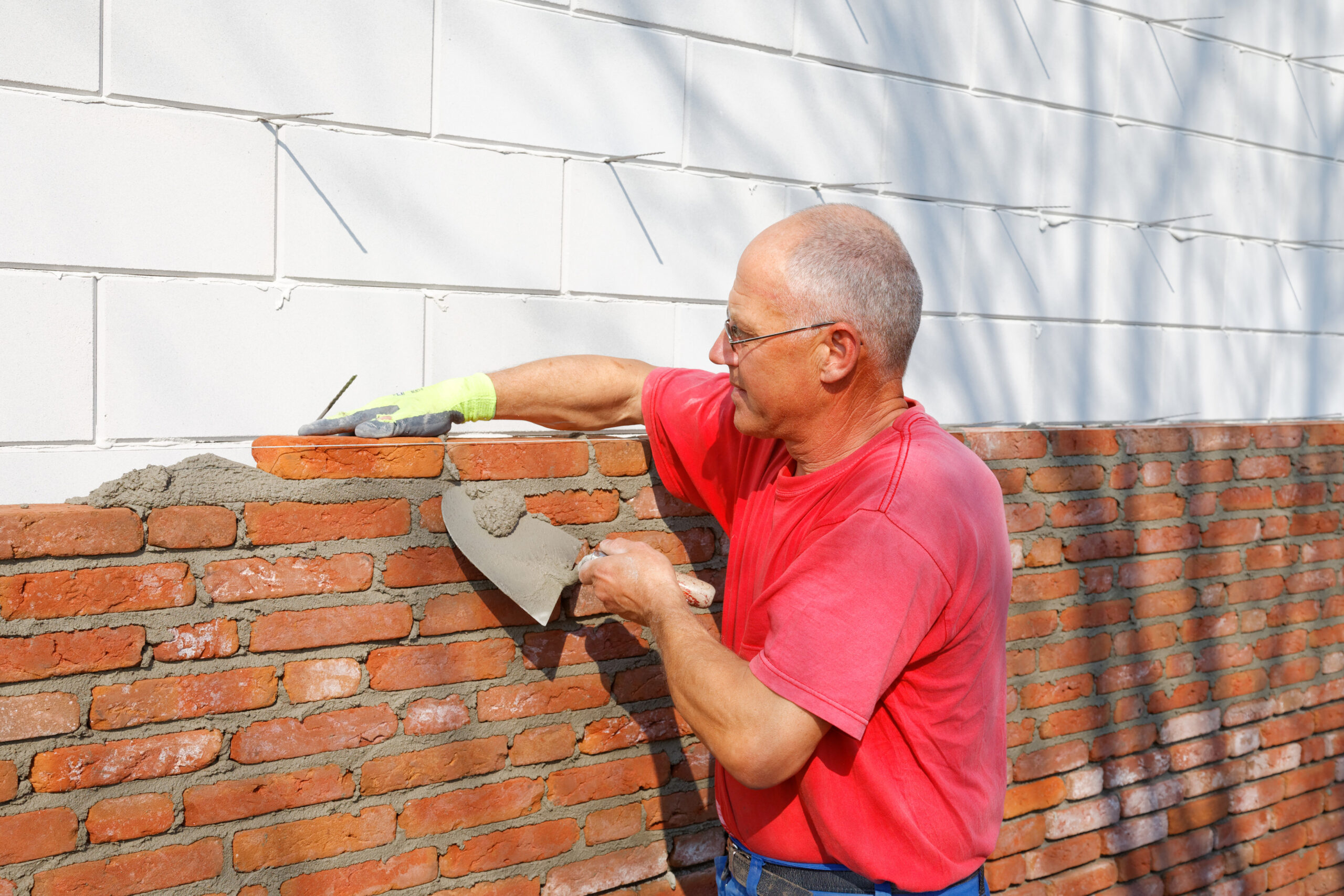 How to Get a C-29 Masonry Contractor License




Getting a masonry contractor license can catapult your contracting career in a new and successful direction. As with acquiring a contractors license in any trade, becoming a licensed masonry contractor takes hard work and dedication. To receive a C-29 license from the Contractors State License Board, you must meet certain prerequisites, pass two exams, and file the proper paperwork along with paying required fees. Learn more about what masonry contractors do and how to get a masonry license below.
What Is a Masonry Contractor?
Masonry-related construction is a popular career choice and can be quite lucrative if you're skilled, licensed, and committed to quality work. Per the Contractors State License Board (CSLB), a masonry contractor installs concrete units and baked clay products; concrete, glass and clay block; natural and manufactured stone; terra cotta; and fire brick or other material for refractory work. This classification includes the fabrication and installation of masonry component units for structural load bearing and non-load bearing walls for structures and fences installed with or without mortar; ceramic veneer (not tile) and thin brick that resembles full brick for facing; paving; and clear waterproofing, cleaning and caulking incidental to masonry construction.
A licensed masonry contractor will most commonly be called upon by general contractors for projects involving brick and stone, such as chimney and fireplace construction. Masonry is needed to construct commercial buildings like hospitals, banks, and schools, as well as residential structures like barbecues, patios, and retaining walls. 
What Are a Masonry Contractor's Duties?
There are many different types of projects that require masons. With a masonry license, you'll often perform work such as:
Brick restoration

Creating concrete block walls

Laying clay bricks, concrete steps, and stone panels

Using stone, gypsum, and rebar

Building and repairing retaining walls
To do this work, masonry contractors must also be skilled at:
Reading blueprints

Estimating, bidding, accounting, and basic bookkeeping

Maintaining a safe jobsite

Disposing of contaminated materials 
Do You Need a Masonry Contractor License in California?
To make a living, yes. A C-29 masonry contractor license is required by the CSLB for anyone charging over $500 per project for masonry services in the state of California. That $500 includes both materials and labor per project. This requirement of the CSLB is put in place to protect the consumer public and make sure masonry projects are done up to code and in a quality manner. Learn more about how to get a masonry contractor license below.
Steps to Get Your Masonry Contractor License
There are a few steps involved in getting your masonry contractor license from the CSLB, which is the sole organization that oversees contractor licenses. First, make sure you meet the minimum requirements, which include:
Being at least 18 years old

Having a valid driver's license or U.S.-issued identification

Having a social security or ITIN number

Obtaining four years of experience doing masonry work (with a qualifying individual to sign off on your experience)

Not being on probation or parole at the time you seek licensure 
Regarding those four years of experience, the CSLB considers having journeyman-level experience to mean that you have worked unsupervised full-time for a masonry company or for a contractor who holds a C-29 license. Essentially, you must be able to prove that you can perform the duties associated with the trade. The four years must have been performed in the last decade, though they don't have to be four consecutive years. A few ways you can prove your experience can be through tax returns, check stubs, contracts, or material order invoices or receipts. 
A qualifying individual (someone who can vouch for your experience) could include a:
Licensed general contractor

C-29 license holder

Fellow employee

Former supervisor

Business associate

Fellow journeyman

Union representative
This person will need to provide an adequate description of your masonry knowledge and skills. They'll need to be able to describe what specific relevant work you've done and to what degree. 
Beyond those minimum requirements, you'll also need to take and pass two exams: the C-29 Masonry License exam and the Law and Business exam. The first will test your knowledge of the masonry trade. The second is required to obtain many types of contracting licenses and will test your general industry law and business knowledge. It's important to carefully prepare for these exams. Many online study kits are available for each trade exam type. 
What's Included in a C-29 License Exam?
Let's look more closely at what's involved in taking the C-29 trade exam. The exam is multiple choice, closed-book, and performed on a computer at a CSLB-approved location. You'll have three hours to complete the test, which consists of 115 contractor law questions and 115 trade questions. 
The test consists of seven major sections:
  Planning & Estimation (12%)
Scope of work

Identify and calculate material needs

Identify and calculate labor and equipment needs
  Jobsite Preparation (24%)
Pre-construction activities

Water management

Reinforcement and bracing

Job site preparation
  Masonry Wall and Building Installation & Repair (16%)
Build CMU walls and buildings

Repair and reconstruct historical masonry structures

Build and repair retaining walls

Clean masonry walls and buildings
  Decorative Masonry Installation & Repair (10%)
Install flatwork and staircases

Install precast masonry

Install glass block

Repair and clean decorative masonry
  Masonry Veneer & Stone Installation & Repair (8%)
Install adhered veneers

Install anchored veneers

Install dimensional stone veneers

Repair and clean veneer installations
Fireplace, Chimney, & Barbecue Installation & Repair (11%)
Fireplace construction requirements

Barbecue and fire pit construction requirements
Safety (19%)
Cal/OSHA safety requirements

Elevated work

Handling and fabrication of stone slabs

Disposal of contaminated materials
The time it will take for your license application to be processed varies depending on the time of year. Typically, it will take anywhere from six to eight weeks. Once it's processed, you'll receive an exam date within three to four weeks. The earlier you start studying for your exam during this time, the better. You can help to prevent delays by making sure you don't make any mistakes on your application. Fill it out accurately and honestly. Thoroughly prove your experience, and if you can help it, try to avoid sending in your application around the holidays. This will likely lead to longer wait times to hear back from the CSLB. 
There are a few fees you'll have to pay during the licensing process:
State Application Fee: $330

License Activation Fee: $200 (after you pass the exam)

Fingerprinting Fee

Bond Fee
The amount of these fees can vary based on current CSLB requirements. 
What Is the Difference Between a C-54 and C-29 License?
Though it's easy to see why one may think the work of a C-29 mason and C-54 tile contractor overlaps, their roles do differ. Tile contractors, who must hold a C-54 license, are another type of specialty tradesman who design, install, and repair ceramic and mosaic tile. Working with this tile is different from a mason's job of working with brick and stone. These materials require different knowledge, skill sets, and technique. 
Becoming a licensed masonry contractor is a big step in your construction career. Once you meet the minimum requirements for a C-29 license, carefully fill out a CSLB masonry license application, pay your fees, study and pass your exam, and then prepare to be a licensed masonry contractor. The final step will be getting properly insured and bonded. We at Surety First can help with that. Our team has a long history of helping contractors sort through bond requirements and paperwork, and we can make the process smooth and quick. 
Learn more about contractor bonds and how to get a free quote from Surety First. 
HAVE BONDING QUESTIONS?
Call us today at 1-800-682-1552 to speak with a licensed contractors bond specialist.
Mon-Fri 8:30am-5:00pm
Or