Performance Bonds Guide
Performance bonds are one of the most common types of construction bonds. They're often issued in conjunction with payment bonds to provide a financial guarantee to project owners. Learn more about how performance bonds work, their benefits and costs, and how to obtain one below.
What Is a Performance Bond?
A performance bond is a type of contract construction bond that guarantees a contractor will complete a project according to the terms outlined in a contract by the project owner, also called the obligee. The obligee can be a city, state, or local government, as well as the federal government or a private developer. One reason these bonds are often required for public projects is to ensure hired contractors are financially and professionally capable of completing the projects they bid on. Surety bond companies that are willing to bond a particular company for a project are, in essence, vetting the contractors capability of completing the specified project on behalf of the project owner.
A construction performance bond is required on federal government construction projects exceeding $100,000 as a result of the Miller Act of 1934. Prior to this, it was common for contractors to intentionally underbid government contracts in order to be awarded projects with the intent of not completing the work unless the contract price was increased after the fact. Since there were no bond penalties in place to prevent this, obligee's were essentially held at ransom. They could pay the increased financial demand or fire the contractor and rebid the project, only to have the same problem repeat with the new company. Performance bonds solve this issue.
How Does a Performance Bond Work?
If a contractor (the principal) fails to meet the terms outlined in the contract, the project owner (obligee) can make a claim against the contractor's bond seeking to recover financial damages. If a claim is valid, the surety will compensate the obligee on behalf of the principal up to the bond amount. It's important for contractors to know that performance bonds are fully indemnified, so in the event of a claim, the contractor is responsible for repaying the surety the amount of the claim plus expenses. In some instances, a surety may work with a project owner following a claim to hire a new contractor in lieu of providing a cash settlement to the project owner.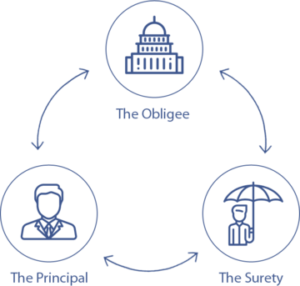 Which Parties Are Involved?
There are three parties involved when it comes to a performance bond:
The principal – This is the contractor hired to do the project.
The obligee – This is the client the contractor is doing the work for, often a state or local municipality, the federal government, or a private developer.
The surety – This is the company that ensures the contractor's performance by providing a bond.
What Are the Benefits of Performance Bonds?
On projects requiring a performance bond, it is not optional for the contractor to decide whether or not to post one. They are typically an express condition outlined in the contract by the obligee for the obligee's benefit. While a performance bond is not for the principal's direct benefit, three indirect benefits of having a performance bond include:
 It's easier to win bids. Non-bonded contractors are typically excluded from bidding on bonded projects by obligee's.
 The surety will pay for losses in the event you don't fulfill the contract because of bidding errors or in the event you go bankrupt (though you do have to reimburse these funds later).
 Performance bonds ensure only qualified contractors are bidding on projects of the appropriate size and technical requirements they are qualified for, which ensures projects that are started have a much higher likelihood of being seen through completion, free of defect. This makes the whole process smoother for everyone.
How Much Should a Performance Bond Cost?
The construction bond cost of a given bond will fluctuate greatly based on several factors. The two primary criteria commonly used by sureties when determining how much to charge for a performance bond is the amount of the bond in addition to the overall strength (experience, credit, liquid assets, etc.) of an applicant. Rates most commonly fluctuate between 1.5% and 3.5% of the project amount.
Performance bonds are generally a small percentage of the bond amount, given an applicant is financially strong, though not all contractors will qualify for a bond at any price. Because they are fully indemnified, a surety looks for an applicant that is financially sound enough to repay the surety in the event of a claim. Otherwise, they will not issue a bond. The larger the bond amount being requested, the more difficult it will be for a contractor to qualify because the risk to the surety increases proportionally. Often, the cost of a bond is included in a contractor's bid, effectively passing the cost onto the project owner as an itemized project expense.
How Do You Get a Performance Bond?
Obtaining a performance bond requires contacting a surety to see if you qualify for bonding by working with their broker to establish a letter of bondability, which is the maximum size of project (or combined projects) a surety is willing to bond you for based on your credit, experience, and financial status, among many other factors. This is not an offer to bond a specific project, however. This figure gives contractors an idea on the maximum size contract they are qualified to bid on.
Getting a quote for a bond is simple. Our team at Surety First can provide you with a quick online quote. One of our surety bond specialists can answer any questions you may have and provide the appropriate applications based on the type of bonds you need, as well as the bond amounts for each. We will also advise you on the bonding process and what additional information may be required by our underwriters so we can get you an accurate estimate as quickly as possible.
What Do You Need to Obtain the Bond?
Each surety bond company will have different requirements needed to qualify for a performance bond with the caveat that, the larger the bond being requested, the more financial information will be required of a principal, and the threshold to qualify increases accordingly.
For performance bonds up to $400,000, we have a credit-based program that is very simple and requires no financials, bank statements, profit and loss reports, etc. All that is needed is good credit and a clean license history.
For performance bonds over $400,000, the following information is generally needed:
Balance sheet
Income statement
Cash flow statement
2 years tax returns
Bank statements
Current work schedules
Letter of experience outlining previously completed work
It's recommended to work with a trusted construction CPA, as they are well versed in preparing your financials to ensure you get bonded.
Does Your Credit Matter?
Yes, credit health matters when acquiring most surety bonds and especially performance bonds. Good credit is particularly important for smaller contractors. Unlike many other types of surety bonds where a surety may simply charge more for a bond when a contractor has subpar credit, sureties will typically deny performance bond requests rather than charge a higher premium in order to mitigate their risk of loss for contract bonds. Large contractors with a proven track record may be able to get a bond despite some minor credit issues if they have several other positive rating factors in their favor.
What About Other Types of Construction Bonds?
Performance bonds often go hand in hand with payment bonds and bid bonds, as many project owners will require these as a contractual condition of being hired. Typically, contractors often have to post a bid bond as part of their initial bid package prior to being awarded a project. The bid bond ensures the obligee that, if awarded the contract, the principal will post a performance and/or payment bond. Payment bonds ensure all material suppliers and subcontractors are paid, which is especially important for public sector jobs because a mechanic's lien cannot be placed against public property.
Payment Bonds
A payment bond guarantees that you'll properly pay all subcontractors, suppliers, and laborers who work on a project. It's common for a surety to package performance bonds and payment bonds together with a single rate for both.
Bid Bonds
A bid bond guarantees that a bid you submit for a project is accurate and that you'll be able to get a performance bond if chosen to do the job. Bid bonds count against your bond line until you notify the surety that you were not selected for the job. The cost of a bid bond is minimal. Some sureties charge nothing, while others charge a nominal fee.
Additional Types of Bonds
Bond of Qualifying Individual
A bond of qualifying individual is a type of license bond that guarantees the applicant will remain compliant with the provisions of the California Business and Professions Code. They must adhere to the rules and regulations set by the CSLB of the Department of Consumer Affairs and may be required for contractors based on varying circumstances.
Disciplinary Bond
A disciplinary bond is required by those who violated state law and had their licenses previously revoked. It may be required in order for a license to be reissued or reinstated. This is an additional requirement to the contractors license bond and varies in cost depending on the previous violation.
Grading Bond
A grading bond is obtained when a property owner, contractor or any other party is looking to move large amounts of earth. This bond acts as a financial guarantee to the entity requesting the bond that the work will be done according to approved grading plans, terms specified in the permit, and laws and regulations.
Subdivision Bond
A subdivision bond guarantees that land will be included and developed in the development of a proposed subdivision. This bond guarantees that the project will be developed based on the project terms should the principal default.